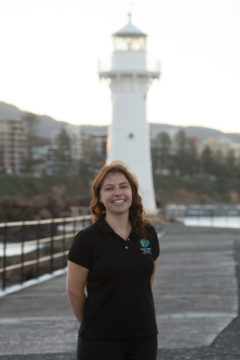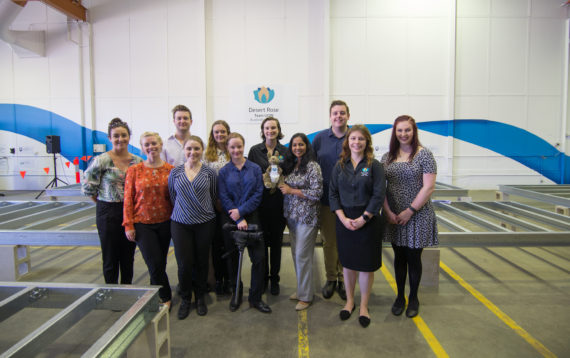 Hi, my name is Emily Ryan and I'm the Operations Manager for Team UOW. I've been involved in this project since its conception, helping to get the Desert Rose project off the ground! My passion for the Solar Decathlon started when I was lucky enough to be in the original Team UOW and competed in the Solar Decathlon China in 2013. I had such a fantastic experience that I wanted to do it all over again! I am the only student who has competed in both competitions and my experience in both teams has been very different but incredibly fulfilling.
It's been a whirlwind adventure so far and I can only imagine how much it will ramp-up from here! One of our biggest milestones to date has been our Construction Launch. We decided that such an important milestone required a celebration with our supporters and team!
Our amazing Communications and Operations team did not disappoint. Our events team got into planning and organising the venue, equipment and timing. Our graphics team designed all our signage and brand new flyers and collateral ready for the day. Our videographer and photographer set up to capture some amazing shots. Our construction team had our floor frames assembled and ready to be on display. And our project leads prepared some very inspirational speeches. And my job was to tie this all together!
The big day was finally here, on Monday 11th December 2017 we gathered together many members of our team and welcomed some very special guests including our sponsors, local politicians and huge Team UOW supporters! I was incredibly nervous, but really had no reason to be. Everything went smoothly and the event was enjoyed by all! Our academic advisor Tim McCarthy was a great MC for the occasion and provided moving intros for our speakers: Marty Burgess from TAFE, Professor Paul Wellings, Vice Chancellor of UOW and project manager Clayton McDowell. Our speakers all impressed the audience with our story and shared the passion we all have. We then had the chance to capture some photos of our special day with some of our guests.
My teammates are incredibly hard-working and all did their part to make sure the day was a success. The feedback since that day has been very positive. We had a number of media mentions and new supporters ready to help us on our journey. I'm very lucky to have such passionate team mates to work with and look forward to building our house and showing it off in future events!