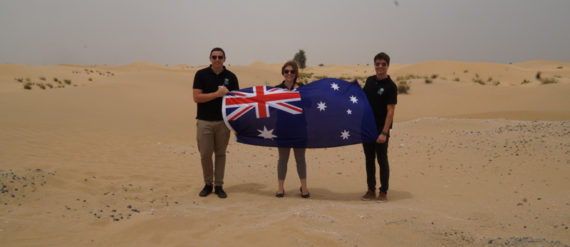 Hey y'all, Luca here!
I'm the Design and Construction Manager for Team UOW. I have (finally) just graduated as a Civil Engineer and will be sticking around for the next three and a half years as well, having recently received a PhD scholarship. Very exciting and busy times ahead!
I'm extremely glad to say that I am not writing this post anywhere near the university or my desk. I took a bit of a break after finishing my final exams, and am currently in Cairns now. Check out my office view today:
Not bad at all, huh.
But now back to the serious stuff.
Team UOW decathletes are currently involved in the design phase of the Desert Rose House. We are running some energy simulations of the house, making sure our design plan also accommodates for all the health and cultural considerations taken, and satisfies all competition requirements. We will be starting to build some prototypes soon, and the actual construction of the house is not actually that far away. So exciting!
I was lucky enough to be part of the Team representatives who were selected to go to Dubai earlier this year, in occasion of the first SDME International Workshop. We got to present our team goals in front of the other twenty-one teams, and got to see the competition site – which is hot. Very hot. Like, desert hot. It's actually the desert. Like, sand. Sand everywhere. And nothing else. And forty-six degrees.
Back to our Australian soil, the team leaders have also been busy with a few presentations raising awareness of the Solar Decathlon, and more importantly exposing Team UOW's goals to the broader public and industry representatives.
I recently attended the Property Council's NSW Asset Management and Sustainable Development Committee meeting with Clayton McDowell – our project manager – in Sydney. Clayton had the chance to present our sustainable house to the meeting attendees, raising interest in what our team is doing for the Australian community.
I'm extremely grateful to see industry professionals interested in what we've been doing as a team.
I have finally concluded my life as an undergraduate, and will now be able to fully focus on the progress of this project, and my related PhD. Keen as a bean!