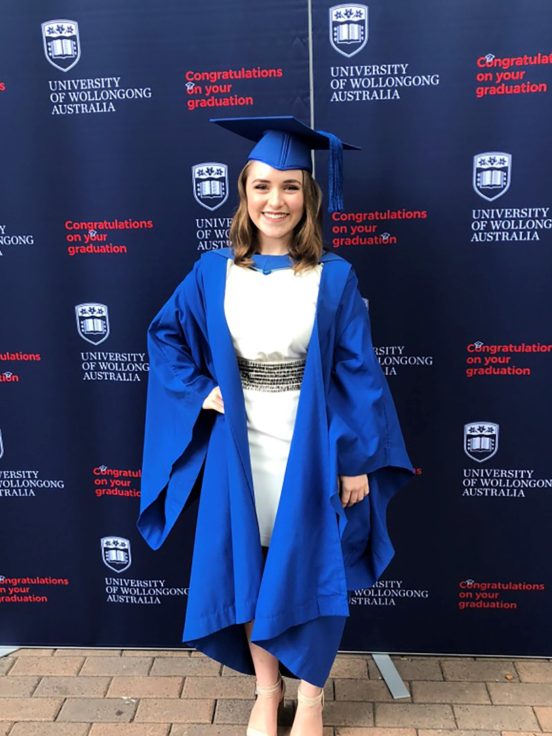 Hi, I'm Clare and I have just graduated with distinction in a Bachelor of Creative Arts (Graphic Design) and a minor in Photography. This degree has been the perfect fit for me! My graduation ceremony was just a couple of weeks ago, and it was wonderfully inspiring to sit in my robe amongst my fellow graduates, some of the hardest workers I know. I couldn't help but reminisce about the laughs we had over coffee breaks, and the support and advice that was freely offered whenever one of us was unsure about our designs. We all put in the effort and we earned our individual degrees, yet it was a team accomplishment, and so it felt right to be celebrating together.
I'm the Graphic Design Deputy Team Leader for Team UOW Australia-Dubai, a role within the Communications Team. I'd just crossed the half-way mark of my degree when I first heard about the competition in mid-2016. The prospect of applying my creativity and design skills into a real-life scenario was thrilling to say the least!
Growing up, my parents did a lot of home renovations – knocked down the back of the house while living in the cottage front, then living in the newly built back part of the house while knocking down and rebuilding the front. While at the time, I probably would have told you it was quite a drag, I was always very curious about how the house would come together, both structurally and aesthetically. Due to my deep-seeded interest, my parents always predicted that I would grow up to be an architect, a thought which nine-year-old Clare stubbornly dismissed. Though there's a lot of truth to my family's prediction. I am a designer, and I never lost that avid interest in housing design. Needless to say, when I heard about a project that could combine graphic design with architecture and the building of a house, I jumped at the opportunity!
I love working alongside such diverse, creative thinkers as those within the graphics team. The collaborative environment we've created enables each of our designs to be thoroughly challenged by people with a broad range of strengths and perspectives, ensuring the strongest possible design outcome. We delegate tasks, yet welcome feedback and input, and I find it genuinely inspiring to be in a communicative environment such as this.
Currently, I'm working on designing collateral including the fence wrap for some upcoming events, as well as working on site, building the house. It's such a thrill to see everything coming together!