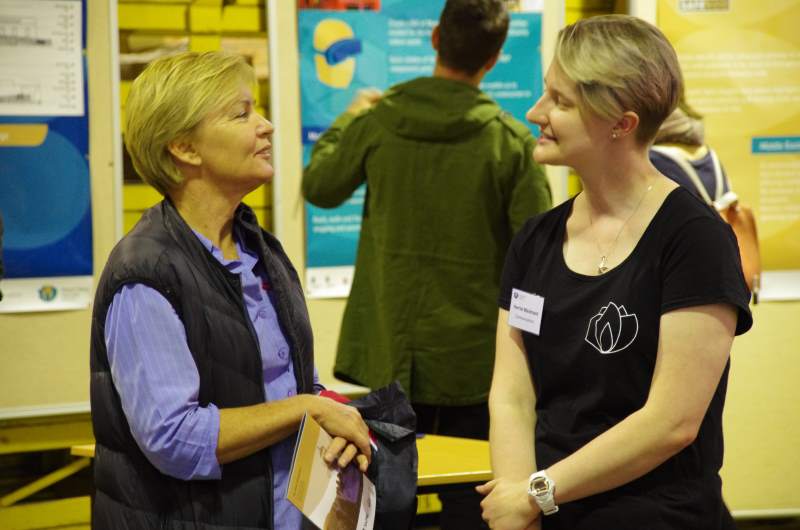 The 2nd of May was Trade Night at our TAFE construction site, an important event for us to connect with sponsors, supporters and other industry professionals interested in our project. I'm Harriet, majoring in Creative Writing and English Lit and I attended as a representative of the Communications Team, and a budding journalist wanting to publish information about this event in our newsletter.
The purpose of the Trade Night was to showcase the house as it exists so far (a kind of steel frame with sheets of wood as a floor and concrete blocks for steps) and to tour our guests through this frame alongside our ideas. It is so important to generate interest in our project, and now with physical evidence, it makes this even easier.
We had tables displaying the kinds technology that will be installed in the house, including our lighting, HVAC system and our bathroom technology. While checking out the taps that emulated the technology ours would have, I chatted to a representative of Enware who outlined the timer function (an auto turn-off feature) of the display tap, an interesting aspect which would take care of someone living with dementia.
The lighting display proved to be the most intriguing for me as it was interesting to chat to other decathletes about what they'd been developing as they demonstrated it to a representative of iAccelerate. He stuck around to chat to us about scholarship programs and witness the nuances of finding the right key words to change the light colours. It was awesome to experience how technology will function in the home providing assistance to the residents. While also creating coloured lighting. Which looked very cool.