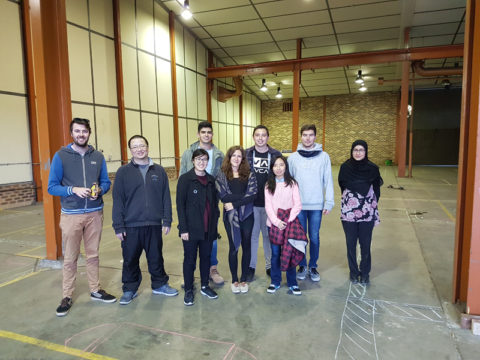 Hi, my name is Ross Prandalos from the Design and Construction team, within this, I'm the deputy team leader for structural design and completing my final year of a Civil Engineering degree. I am going to share some thoughts about the recent experiences I've had working on the Desert Rose thus far.
On 22nd June 2017, decathletes from a range of teams attended a chalk up of the Desert Rose house at TAFE Illawarra, where we drew up the floor plan of the house on concrete, with chalk to the approximate dimensions of the house. This included drawing all walls, cupboards, the kitchen bench, beds and other fixed objects in the house from a bird's eye perspective. Thankfully, minimal materials were required for this task, including tape measures, string lines and of course: chalk. It was a fun activity and especially hilarious watching Clayton (our Project Manager) in his good shoes and trousers doing a backwards shuffle while running the chalk along the concrete for rapid application of chalk. Our knees were quite filthy afterwards.
The idea behind doing this activity was to get the first physical picture of the spaces of the house. It helped to establish some perspective in room sizes as you imagine yourself inside the room while standing within the chalked boundaries. After the chalk up was completed, we pretended to enter the house and walk around the spaces and it was exciting to think that this time next year, we will probably be doing the same thing in the actual house.
I was never anticipating experiencing activities like this when I originally joined Team UOW in 2016. I joined thinking I would learn all about sustainable and energy efficient buildings. I soon realised that there was so much more to this project then simply energy efficiency. Participation so far has allowed me to experience architectural workshops which I found extremely insightful learning how a floor plan is developed. I've also now embraced the project for the social issues it aims to tackle. In my own life, I see my grandmother struggle to walk up and down three steps to and from her back door. As most, if not all of us know of someone with a mobility issue, disability or dementia, designing a house that provides greater support for those people is special as it could change contemporary house designs and improve the livelihood of those close to us.