The Desert Rose interior has been designed to be functional and aesthetically pleasing for an Australian and Middle Eastern context.

Neutral tones combined with colours inspired by our team logo, the interiors are relaxing and inviting.

Custom pieces of furniture have been created for Team UOW using recycled hardwood to encourage sustainability and have furniture best suited for the occupants.

Team UOW have introduced biophillic design elements to connect the indoor spaces to nature through an interior greenwall and timber furnishings.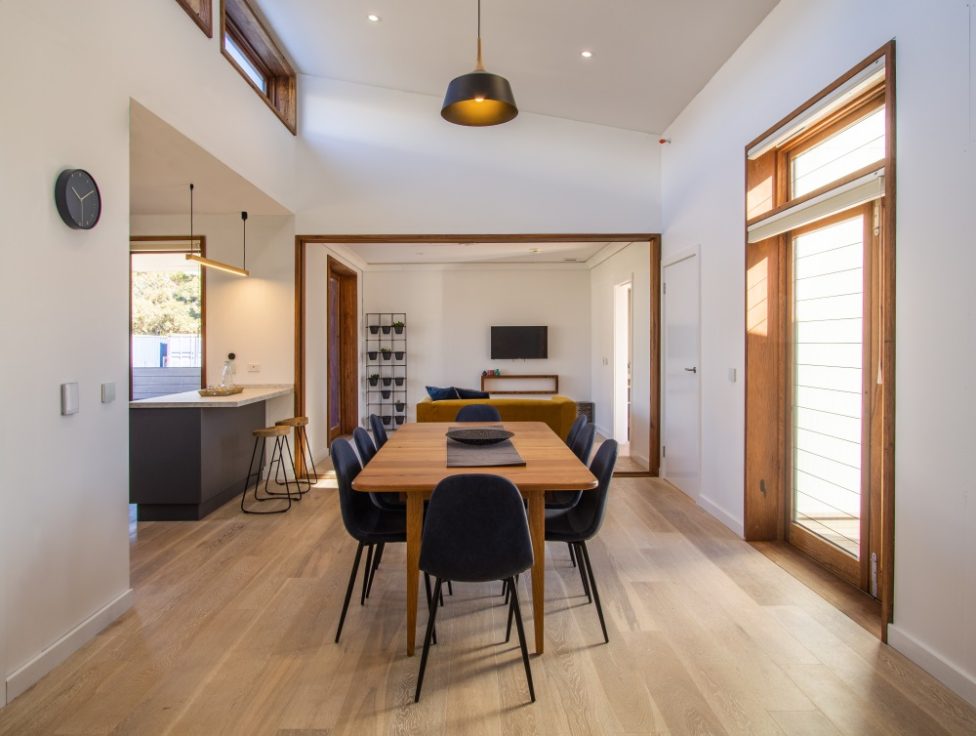 The Desert Rose was conceptualised to incorporate contemporary residential construction innovations that provide maximum comfort, elegance and privacy backed by a design that complements the needs of sustainable living in the Middle East. The interior design integrates both Middle Eastern and European design concepts to produce a house that combines features sought by both mainstream Australian and traditional Muslim cultures.
To accomplish this, the interior scheme adopts a neutral pallet which allows aspects of both cultures to be seamlessly intertwined throughout the living spaces. The concept of the interior is to provide a relaxing, open and homely feel that accentuates the liveability features including line of sight and age-appropriate details such as high contrast bathroom details, wheelchair accessible spaces, appliances that are easily accessible and operable, access to green spaces.
Colour and Lighting
Strong weighting has been placed upon the colours chosen to combine the Australian coastal aesthetic that compliments Indigenous Middle Eastern design. Cool colours such as blues and greys have been chosen as they can make rooms appear larger.
Keeping flooring colour consistent and reducing reflection throughout the house can improve the quality of life for elderly residents living with dementia. Shiny surfaces – especially in regards to the flooring – have been avoided as the floor can be mistaken as a wet surface and create places within the home where residents will not venture, discontinuing their living activities.
Given the strict solar envelope and architectural requirements, clever use of colour and light were incorporated into the design to help maximise the feeling of a light and open spaces. Natural lighting is used to promote health and wellbeing with artificial lighting used in work spaces to ensure safety and comfort.
Team UOW have endeavoured to provide where possible a Light Reflectance Value (LRV) of up to 62, and a minimum of 30 LRV required between different surfaces to assist those with vision impairment to distinguish different elements. Team UOW has also endeavoured to provide sources of light placed away from users' line of sight to minimise direct glare, as well as providing separate lighting for task work at minimum 300 lumens.
Privacy
Islamic culture places an emphasis on modesty, privacy, personal space and hospitality within the confines of one's home. The Desert Rose front door is designed in a way that it does not give immediate access to domestic quarters, but leads to a vestibule/ lobby, which will prevent the interior from being exposed to the outside world when the front door is opened. The entrance lobby acts as a welcoming space for guests to the home and is equipped with an upcycled shoe cabinet that sits fast against the wall.
To continue the aspects of privacy coupled with hospitality, the Desert Rose house facilitates an unobstructed movement of people within the house, from inside the house to its outside and vice versa, without putting the 'awrah', privacy and peace of any user of a house at stake. This helps to keep certain spaces of the house private whilst entertaining guests and being hospitable on certain occasions.
Kitchen
In the kitchen, designs have been implemented which are stylish, and embedded with features that aid the use of residents who are bound by a lack of physical ability. Many aspects of the kitchen are designed to be easily accessible to a resident in a wheelchair or with other age-related diseases, maximising functionality and flow.
The design incorporates appliances that are user-friendly along with automated above-head cupboards in a kitchen layout that makes it a safer place for aged and disabled occupants and those living with dementia.
The kitchen layout has been designed in reference to the kitchen work triangle to streamline kitchen efficiency, reduce confusion and minimise unnecessary movement. Ease of movement is also supported by a minimum of 1550mm clearance in front of fixed benches and appliances, creating a flexible, easily accessible space with wheelchair access.
The cooktop combines the efficiency of induction cooking with rotary control knobs which are more familiar to an individual with dementia. The sideward opening oven provides ease of use for those that use a wheelchair.
The kitchen drawers reduce risk of injury from brushing past or catching of objects, provide a soft-close mechanism reducing pinch-points, while also providing enough room underneath for wheelchair footplates. The drawers under the sink have been specifically designed to ensure a functional waste and recycling system.
While corner solutions have also been adopted with LeMans pull-out and 2-tier revolving unit corner storage systems to efficiently maximise storage in commonly problematic corner locations.
Master Bedroom
A series of built-in cupboards are installed to be wheelchair friendly with shelves that can be accessed easily from a sitting position. Sliding wardrobe doors were chosen to minimise space taken up and remove any unnecessary distractions in the room.
The position of the bed is appropriate relative to the direction of Mecca, the Holiest City for Muslims. The deep blue velvet bed sheets contrast the light floor boards and ensure easy navigation around the bedroom. The bed-frame and mattress are 53cm (21 inches) high, according to the Disability Rights Education and Defense Fund beds should be 20 to 23 inches high (Rest 2018). The Koala Mattress features a removable, washable cover and zero disturbance technology.
Bathroom
The floor and wall tiles in the bathroom were chosen specifically to decrease slipping and eliminate their wet appearance, which can lead to uncertainty and falls for someone with late-stage dementia.
Slip reduced, high contrast tiles are used in the bathroom to create a low stress and low injury environment whilst also making the room seem more spacious. The Belga Charcoal tiles are locally made, manufactured only 185km from our construction site in Wollongong. This ensures a high contrast between the toilet and the wall and floor, allowing higher visibility and identification of the toilet for someone living with dementia.
The cupboard in the main bathroom acts as a laundry and further storage unit. It houses the washer/dryer and has a pull-out drying rack, allowing for an integrated alternative passive drying system. The cupboard also allows direct access to HVAC and electrical equipment, creating easy maintenance access if required in the future.
Custom Furniture
The Desert Rose features an array of custom furniture designed by Team UOW students, often through a collaboration with industry manufacturers. All custom wooden furniture is made from recycled hardwood that has been sourced from demolition sites around the Illawarra or reclaimed Desert Rose waste.
Biophillic Design
The Desert Rose utilises biophilic design principles. Biophillic design incorporates the natural environment into our built environment. Evidence shows that this improves health, productivity and wellbeing within the home whilst also providing sensory engagement. This is achieved through timber furnishings throughout the house as well as integrated plant life.