The entire Desert Rose House is wrapped in an airtight membrane.

Floors, walls and ceiling cavities are all insulated.

Our R value is just under 6, much higher than the requirements for new builds in the Illawarra which is a minimum of 2.25.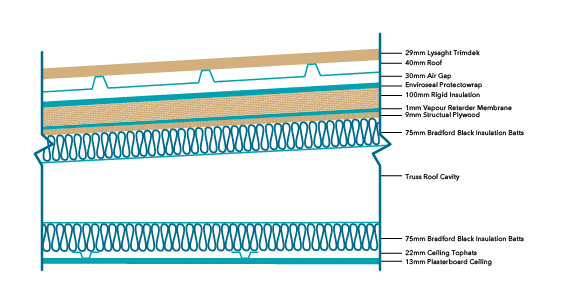 Airtightness
Team UOW has significantly improved the air tightness of the Desert Rose when compared to a typical Australian home. We have wrapped the entire house in a red air tight membrane with the goal of reducing the air changes per hour to 1.5 per hour. In comparison a typical Australian home will be between 10 and 16 air changes per hour. In doing this and reducing the air changes, the KNX automation can keep the house at an [ambient] temperature with minimal waste of energy.
Floors
The floors consist of Big River Frosted Oak, an engineered timber floorboard, 5mm of a rubber underlay, followed by 21mm of plywood and a 150mm of Lysaght steel purlins which have been used to form the structural frame. This frame is filled with 150mm of CSR Bradford Black Sensitive Batts. Below this we have 9mm of plywood which is coated with an air tight membrane followed by 40mm of Extruded Polystyrene Batts giving an R value of just under 6 where as for new builds in the Illawarra you are required to have a R value of only 2.25 or 1.75 in Dubai.
Walls
The frame is infilled with 90mm of CSR Bradford Black Sensitive Batts (R 2.5). The batts are made from 80% recycled glass bottles and are assembled with non-harmful natural binders that are hypoallergenic and do not contain any volatile organic compounds (VOC) and no ozone depleting products are used in its manufacture. The walls are then wrapped in a 9mm sustainably sourced low VOC plywood which is coated with an air tight membrane. On top of this we installed 100mm of Extruded Polystyrene Batts (XPS) (R 3.6), a layer of 90 x 45mm timber battens that form an air cavity that runs from the bottom of the walls to the top and function as a means of venting any heat that is generated from the sun hitting the external cladding. The external cladding is Weathertex Ecowall. Weathertex meets the Declare requirements of the Living Building Challenge which is the toughest sustainable building criteria to meet with the panels being manufactured using no resins, binders or added formaldehydes. The paint is Dulux Weathershield China White. All of this gives the walls an R – value of just under 6 and a total thickness of 270mm. For new buildings in the Illawarra they are required to have an R value of only 2.8 or 1.75 in Dubai.
Roof
The BIPV-T panels make up the roofing material for the southern façade (in Dubai), the remaining roof cladding on the northern side (in Dubai) is Colorbond Coolmax. This roof material is designed to reflect as much of the sun's rays as possible to help keep the home cooler, it has a nominal solar reflectance of 0.77 which means it reflects 77% of the sun's heat.
The roof construction is similar to the walls with an R value of approximately 6.