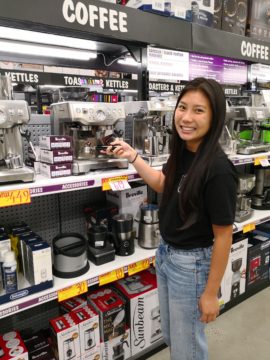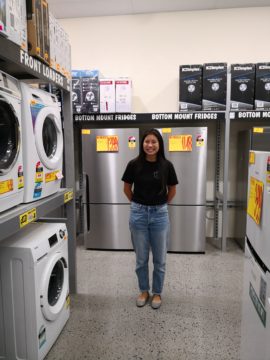 Hi all, my name is Mandy Li and I am the House Functioning Team Leader for the Desert Rose House. My responsibilities include selection of appliances, energy analysis of the house, and ensuring the overall functionality of the Desert Rose. I have, however, been told multiple times that my main role is to get us good coffee machines- but I don't even drink coffee!
Overall, appliance selection may sound easy, but our Building Services Team Leader, Brendan Banfield, has expectations of the appliances being highly energy efficient and our Liveability Team Leader, Vivian Pham, lists particular attributes for the appliances in order for them to be particularly dementia and wheelchair-friendly. The Solar Decathlon rules also provide a thorough list of requirements for each appliance, so it is harder than it sounds.
I have been appliance searching and making my wish list. After research, I have established attributes that are important for our appliances; for example, the oven should be side opening to allow easier access for those in wheelchairs and the kettle light in weight to ensure any elderly occupants are still able to lift and pour their boiled water.
The energy analysis involved calculating the average yearly, monthly, daily and hourly electricity usage and solar energy obtained through modelled data and advertised kWh ratings. The competition energy analysis was also conducted to provide insights into our predicted maximum energy production and consumption throughout the competition period. The coffee machine was especially prevalent nearing towards the end of the competition period.
I started my journey with Team UOW back in early 2016. I was mainly enticed to join the Solar Decathlon due to my competitive and pedantic nature. When they told me there's a rulebook and we had won the competition last year, I was in.
Now that I'm working on house functionality, my team (sort of) get our own contest: Contest 6. It primarily involves testing appliances to see if they achieve certain tasks and if they do, we get points. It's like you win or you lose. This is compared to other contests where points are dependent on how other teams go. In this contest, points are also awarded for if you're close to achieving the task, like a "you tried" award.
I'm keen to continue my journey in this project and I'm ready for my 120 points in Contest 6: WATCH THIS SPACE!